What if you are new to the game, but really would like to try it out because you like real oldskool hardcore shooters and want to experience RtCW?
I mean all that call themselves FPS head just should try RtCW for some time.. Also I know that some are truely interested, certainly when they saw the better youtube vids. I'm talking about several ET, COD, MW, BF and UT players are truely interested in this game. And they should be!
Ofcourse when you search for it well enough, the full versions of this game can be found
online
. There are at least 5 different install packs of the full game online. But also I must say that's not legal! So I won't promote here to do that! Personally I have bought the game (you can too online @ Steam), so I have the right to DL copies of it and test it. And I did. Never found malware or other strange things in it.
Most times it just needs the Master Patch and setting the Connection Type and keys right.
Anyway.. Many players of the full were once introduced to the free RtCW MP Demo. I have played it for years first. Even next to the full game as it had it's own servers/players. This demo (first 1.0 and later 1.1) had only map Beach and something like Trench Capture the Flag.. But beach attracted heads to buy the full game and would still be nice to share so others can be introduced to the game.
When id's master server went offline in 2012, the original RtCW demo was fully dead. Not long after that I stumbled upon a
new
version of the Demo. It was put online by community to keep the legend alive. I tested it. It showed 1.0 serverlist but only consisted map Beach and the installer was just 60MB. Prob all of us understand that in this server are still quite some players atm (real players, no bots).
But.. atm free Demo2012 seems not to be online anymore. Maybe because it's pretty easy to make it a full 1.0 (and 1.3 and 1.4) but none of us is to blame for that and how to do it won't be shared here by me..
Once I bought this game knowing a great shareware version existed and it still should be available for download! Now.. I have this Demo2012 here and I feel it should be shared. I will put a
config
in it for tweaked play like dropreload, maybe a link to breezie and a small transformation guide elsewhere.
But does anyone knows where I can put this free RtCW Demo2012 (only beach) back online so that it stays a bit longer than a few weeks? A private message is fine, also if you feel bad about my post or I should correct it.
I will
not post direct links to illegal downloads
. Not here and not anywhere as these will be taken offline. But if the free demo is back up, I can promote RtCW in other FPS/game communities and I hope others will too.
Note: If you are starting with this game and have problems.. Read
this
and know that it takes at least 10 evenings before you get the hang of it. Don't care about points but keep your eyes and ears open! Try serveral servers from my
fav
list to experience different game styles with real players. And.. Ask community for help if needed.
Seems some have failed..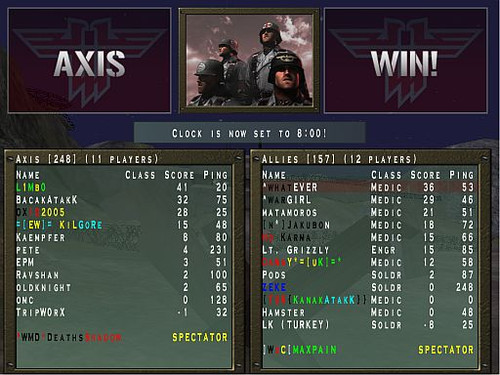 But it certainly ain't over yet.